Nov 10, 2015
Yokoso Kagoshima! vol.6 Do you know Samurai ramen umami made in Kagoshima?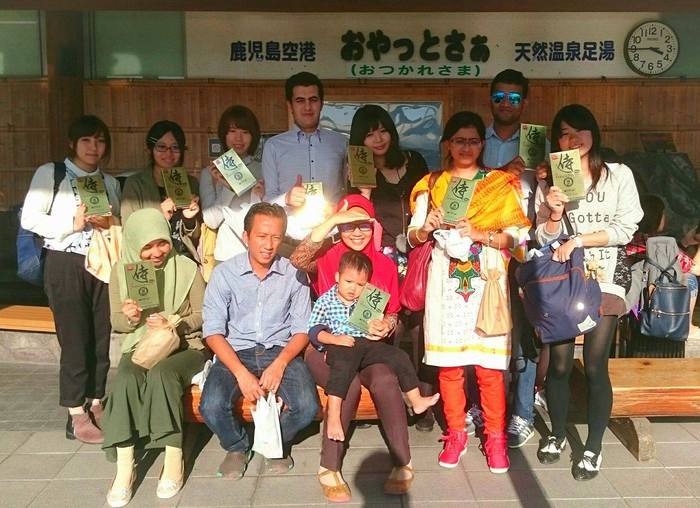 Do you know that Kagoshima prefecture was playing an effective role on the modernization of Japan?
The first step towards modern Japan was by Ryoma Sakamoto who significantly affected the Meji restoration. He was a great fan of hot springs in Kirishima area. In the month of March of the year 1866, Ryoma after surviving from a nearly death healed his wounds in the salty hotsprings along with his wife Oryu, The days he and his wife spent in Kirishima were one of the best time in their life. In fact their journey was considered as the beginning of honeymoon trips in Japan. Thus, Kirishima is the origin of the concept of honeymoon in Japan.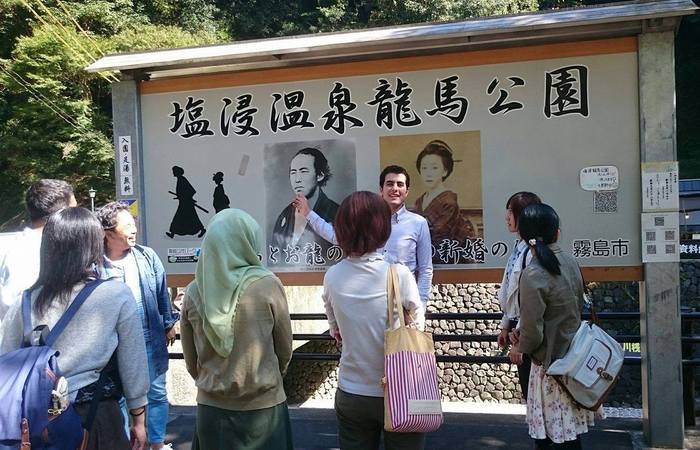 We also visited the same saline hot spring in Kirishima where Ryoma spent his good days. There besides enjoying hotspring, foot spring, we had learned lot from the exhibition items at the Ryoma park. There one can experience to be dressed like Samurai or can have a feelings to be a Samurai. After all those extravaganza, we went to muslim friendly restaurant "Kyoharuka" in Kyocera Hotel and enjoyed delicious Washoku (Japanese traditional food ). Kyoharuka
Kyoharuka https://www.halalgourmet.jp/restaurant/641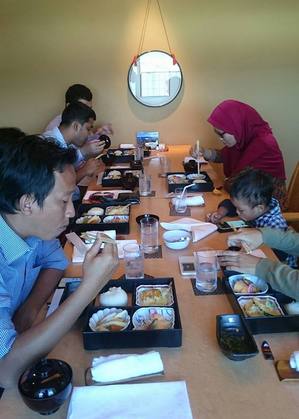 Kagoshima is also famous of private hot springs (family baths). We visited one of the oldest family bath "Yugoya-Story". Since it is private therefore muslims can also enter there with ease.
Yugoya-Story (private family bath) http://www.yugoya-story.jp/
At the end of our trip we went to Kagoshima airport and had a look on various souvenir shops. Samurai ramen umami was very much popular among muslims as it is free from animal extracts and alcohol, most muslims care of. This ramen can be obtained from gift shop at the 2nd floor.
Samurai ramen umami http://samurai-ramen.jp/
Have you ever heard of a prayer room at the Kagoshima Airport? It is the 3rd floor in international terminal. Regarding international flights, the dressing room in domestic terminal can be used as a prayer space when it is not in use.
prayer room http://www.halalmedia.jp/archives/4808/kagoshima-airport-started-providing-prayer-space/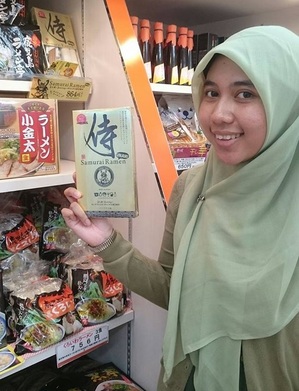 Finally, after taking a group photo, all returned back to their respective places. We had a great time with Japanese friends,enjoyed nice hot springs and delicious meals. We recommend Kagoshima trip. Lets's meet again in Kagoshima !
Visit Kagoshima http://kagoshima-trip.jp/sp-ejk/