002

Japan Premium

Aroma Patches
Aroma Patches
Aroma patches use the patented DGDS production process to diffuse aromatic compounds from natural oils to the entire body. They are used by attaching the adhesive sheets underneath your underwear. Available sheets include aromatic blends featuring black pepper, which improves poor swallowing reflex which can lead to aspiration pneumonia; as well as rosemary, hops, orange, lavender, lemon, neroli, eucalyptus, sandalwood, mandarin, etc.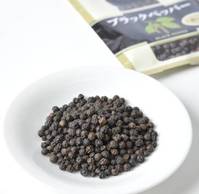 Mar 13, 2015
Proven at Tohoku University! Black Pepper Aroma Improves Swallowing Reflex, Prevents Pneumonia.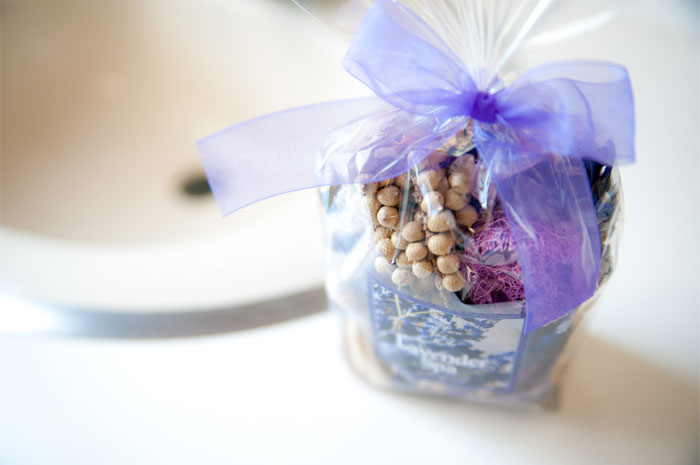 Black Pepper Found to Increase Levels of Substance P Neurotransmitter.
Pneumonia is the fourth leading cause of death in Japan. 94% of pneumonia fatalities occur in patients over 75 years of age. Among patients above the age of 90, pneumonia jumps up to be the second leading cause of death. In Japan's aging society, "aspiration pneumonia" is regarded as the most dangerous variant of the disease. 70% of pneumonia cases among the elderly are classified as aspiration pneumonia. One of its characteristics is its tendency for recurrence.
Aspiration occurs from a weakening of the swallowing reflex. Swallowing refers to the act of ingesting food or saliva. The inability to swallow properly is referred to as dysphagia. Aspiration pneumonia occurs when dysphagia causes saliva and bacteria to flow into the lungs. It is sometimes caused by stomach fluids brought up by vomiting. Prolonged aspiration pneumonia could call for a gastrostomy, in which small holes are opened in the stomach to directly feed nutrients to it.
Reduced levels of the substance P neurotransmitter causes impairment of the swallowing reflex. Substance P is produced when the effects of dopamine are received in the brain's basal ganglia. Its levels fall due to damage to the brain caused by strokes, cerebral hemorrhages, Alzheimer's, Lewy body dementia, and Parkinson's disease. This accounts for the high rates of aspiration pneumonia among patients with cerebrovascular diseases and nervous system diseases.
In the world of medicine, pharmacology is underway to find treatments for dysphagia. Oral remedies exist which can increase substance P levels. However, it is not easy for patients who cannot swallow properly to take medicine orally.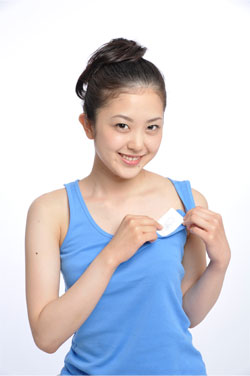 To circumvent this issue, aromatherapy, which uses the sense of smell to stimulate the brain and increase substance P levels, has been drawing attention. The Geriatrics Department of the Tohoku University Graduate School, a team which is world famous for its hepatitis research, is involved in this Aromatherapy research. Their research shows that black pepper oil is the most efficient means to boost substance P levels. It is also well-liked because it does not require a diffuser, making it easy to administer.
Black pepper oil aromatherapy uses the Drug Gas Delivery System (DGDS), which was developed by a company in Hokkaido. The aroma sheets contain carbon capsules which have been soaked in black pepper oil. The sheets, when applied underneath the underwear or clothing, sense the body's heat and release their aroma. Finally, the aroma compounds are absorbed by the skin.
Can be Taken Even While Fasting, Results within a Few Days of Use.
At the elderly care facilities at Tohoku University Graduate School Geriatrics Department, an experiment was carried out on male and female tenants to compare the change in swallowing reflex from olfactory stimulus using water, lavender oil, and black pepper oil. Black pepper oil was found to improve swallowing reflex as well as provide a significant increase of substance P concentration in the bloodstream. Blood circulation to the brain was also improved.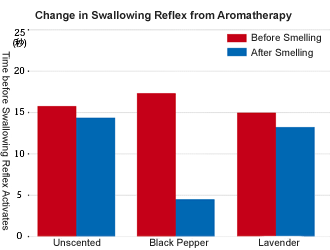 Another experiment was conducted at the Oita Prefecture Mie Hospital on a 91 year old male patient who had had repeated outbreaks of aspiration pneumonia. He spent two weeks doing each of the following: 1. doing nothing, 2. using black pepper oil, 3. using drug remedies (Tanatril 5mg, Symmetrel 100mg), and 4. using both black pepper oil and drug remedies. When areas related to swallowing impairments were compared, the black pepper treatments showed improvements in the water drinking test, times choked, and times aspirated.
Dr. Kai Seiji had this to say: "Black pepper oil aroma patches have an equivalent effect to drug treatments. Effects were visible within a few days of starting treatment, and they have the benefits of being usable during fasting and having no side effects."